Concrete Effect Paint
Regular price

Sale price

€80,49
Shipping information

All orders are shipped within 48 business hours of receiving payment.

Parcels are shipped with UPS/DHL and pallets with DB Schenker.


EU (UPS/DHL): 3-6 working days
EU (DB Schenker): 6-10 working days
Outside EU: 5-14 working days

Note: The above time estimates are subject to change due to unexpected events.

----------------------------------

CUSTOMS AND SALES TAX(VAT) TO THE UNITED KINGDOM

1. Orders under £135

If order value is below £135 then all fees (20% tax) are paid right away when placing an order.

2. Orders over £135

When the value of the order exceeds the equivalent of £135, HM Revenue & Customs regulations states that import tax and customs duties applies at the UK border. This means that when placing an order, you will only pay the net value of the order(0% VAT), we will not charge you tax and duty. The carrier will contact you to collect the related fees on behalf of HM Revenue & Customs before the delivery.

----------------------------------

Delivery price depends on the weight of the shipment and is shown in the shopping cart after entering the delivery address.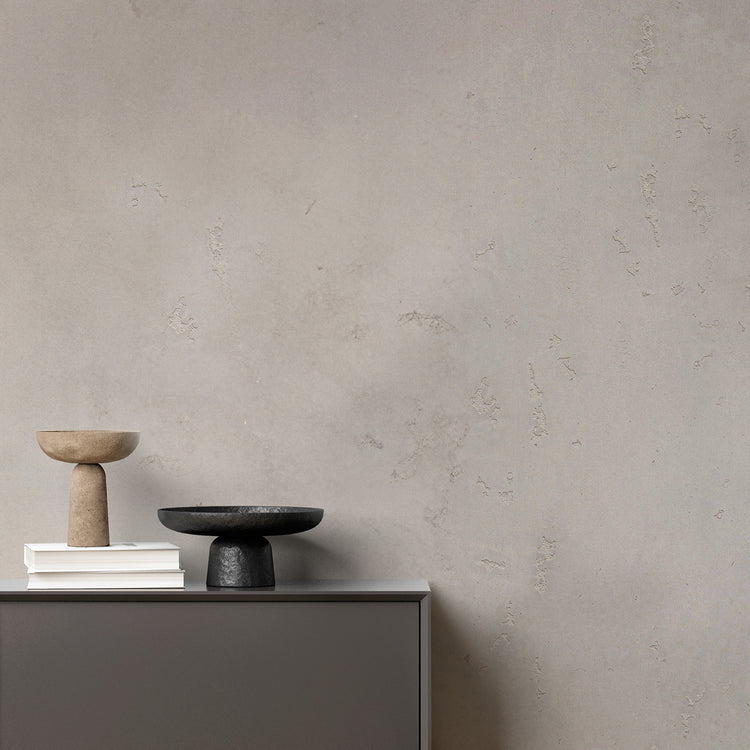 Product Details
Concrete paint allows for obtaining various decorative effects, depending on the application method and the painter's imagination. From a smooth finish 
through the effect of imitating architectural concrete slabs to raw concrete with characteristic roughness, spalling, and pitting. It works very well in the modern interiors of public and residential buildings, especially those arranged in an industrial style. It perfectly matches wood, glass, and metal.
Tip: Concrete paint is great for covering up minor wall irregularities and other imperfections.
1. Coverage

One set is sufficient to cover approximately 4m² of a wall's surface.
2. What's in the box?

One set includes Contact Primer, Concrete Effect Paint and Varnish.
3. Step-by-step application

The substrate should be clean, dry, degreased and stable. Remove paint and plaster residues and other layers that are not bonded to the substrate, and patch any gaps. Thoroughly protect unpainted surfaces with foil.

First step: PRIMER

Apply at least one layer of "Kontakt" Primer using a paint roller. It contains quartz sand, thanks to which the obtained coat is rough, which significantly increases the Concrete paint adherence. Leave the prepared surface to dry for about 12 hours.
CAUTION! The Concrete paint does not tolerate gypsum. For gypsum plaster or any surface containing gypsum, e.g., repaired with gypsum putty, it is necessary to apply two coats of "Kontakt" Primer to isolate the surface.

Second step: CONCRETE EFFECT PAINT

Mix the product thoroughly with a mechanical agitator before use. Apply Concrete paint with a paint roller in stages, working on an area of max 1 m² at a time. After painting each section, smooth the surface with a plastic trowel, using circular movements. Repeat this process until the entire surface is covered and leave the wall to dry for about 24 hours.

After this time, working again on an area of about 1m², apply a second coat of paint, spreading it with a roller and wiping wet with a plastic trowel. If you want to achieve a characteristic pitting effect, leave small holes in some places. If you want the surface to be smooth, apply the paint evenly. You can also use a decorative stencil and create a pattern at this stage. Concrete paint allows for various decorative effects, depending on the application method and the painter's imagination.

After about 15-20 minutes, check if the paint is dry enough not to stick to the tools. Take a Venetian trowel and, applying it flat, smooth the entire decorated surface with circular movements. When finished, let the wall dry for about 24 hours.

Third step: VARNISH

Once the surface is dry, clean it with a brush to remove any loose paint residue. Then, apply Primacol Decorative varnish with a brush or a roller. When applying the varnish, be very careful not to leave stains that will negatively affect the final visual effect.
If necessary, repeat the varnishing and let the wall dry for at least 24 hours.

Find PDF Instructions in "Technical info & digital materials" below.
4. More info

Tools: 2 x paint roller (for paint and varnish) - buy here, plastic trowel, venetian trowel - buy here, brush
Coverage: ± 4 m²/set
No. of layers: 4
Cleaning of tools: water
Drying time: 24h (drying time may be extended due to environmental conditions)

Download:
1. SDS
2. TDS
3. Instruction
Still having doubts? Order a pattern book!
Our samples are handmade so you can be sure that the samples you get in hand are as authentic and true to the result you can achieve as possible.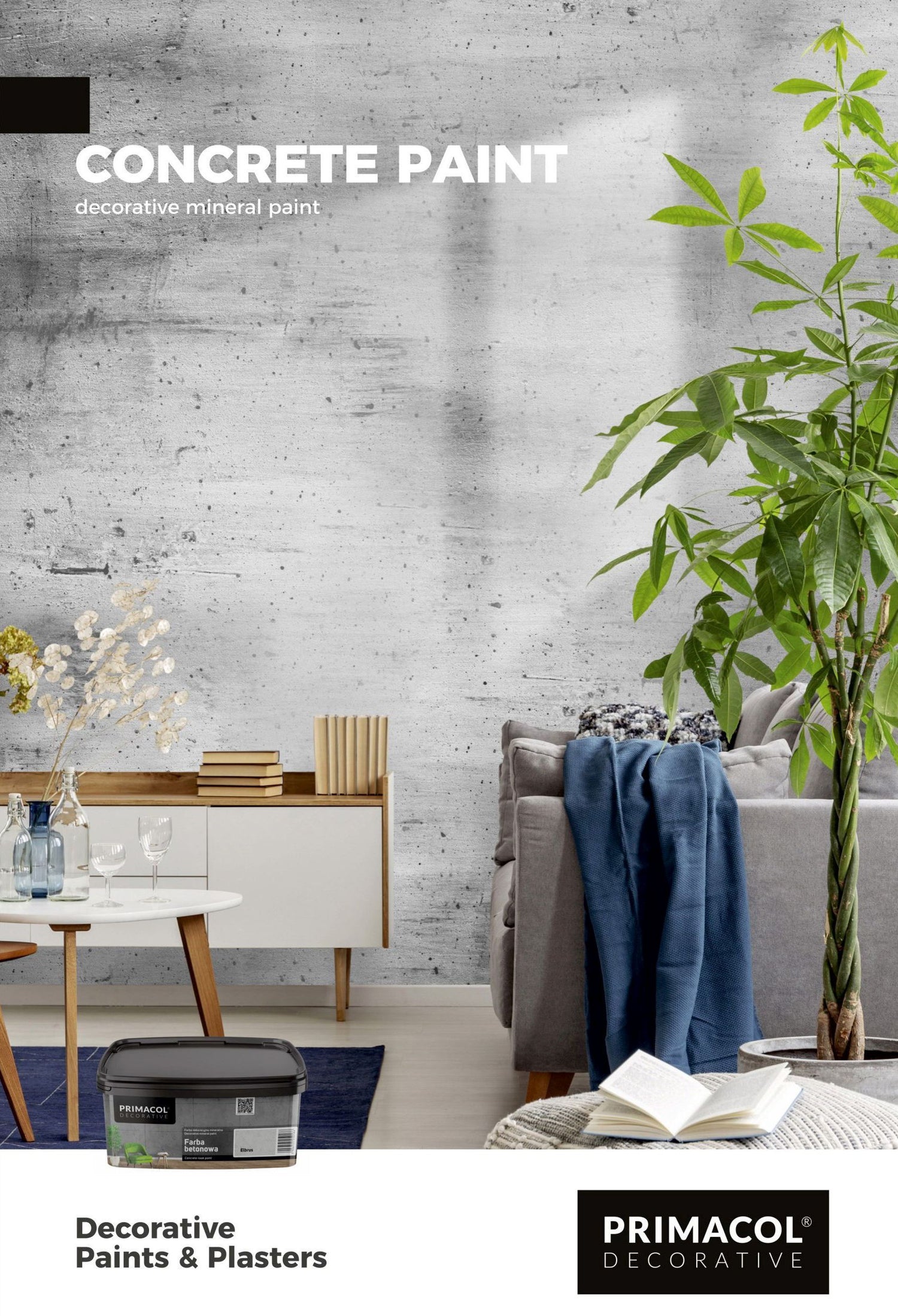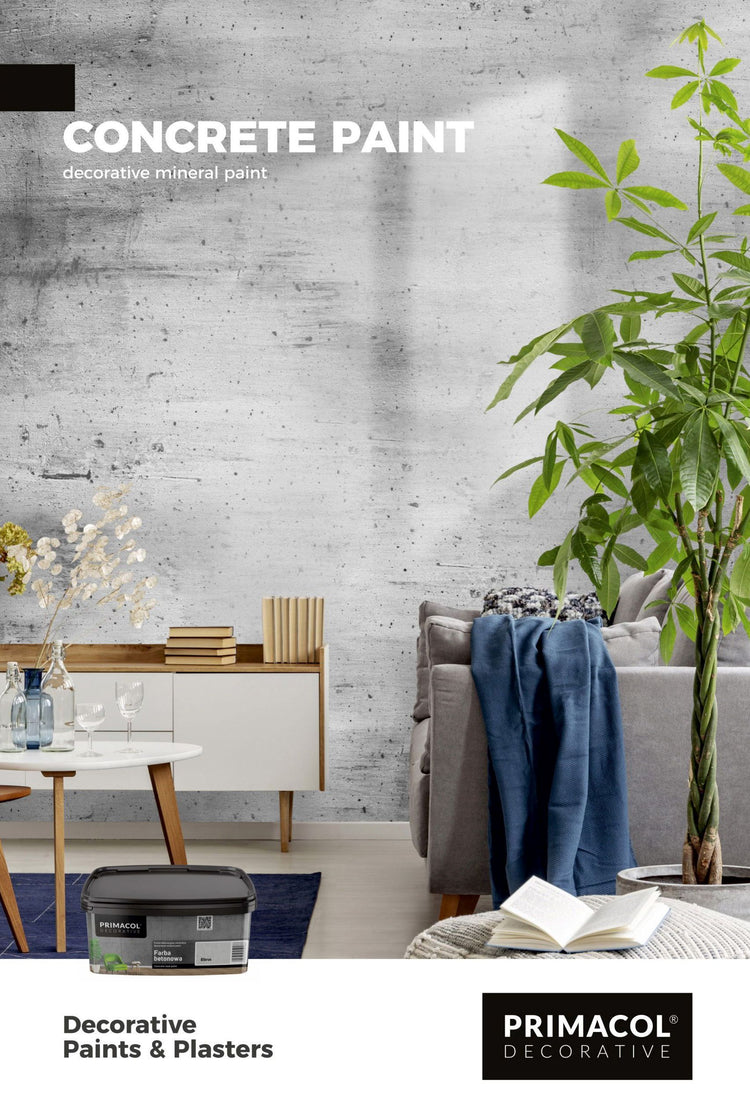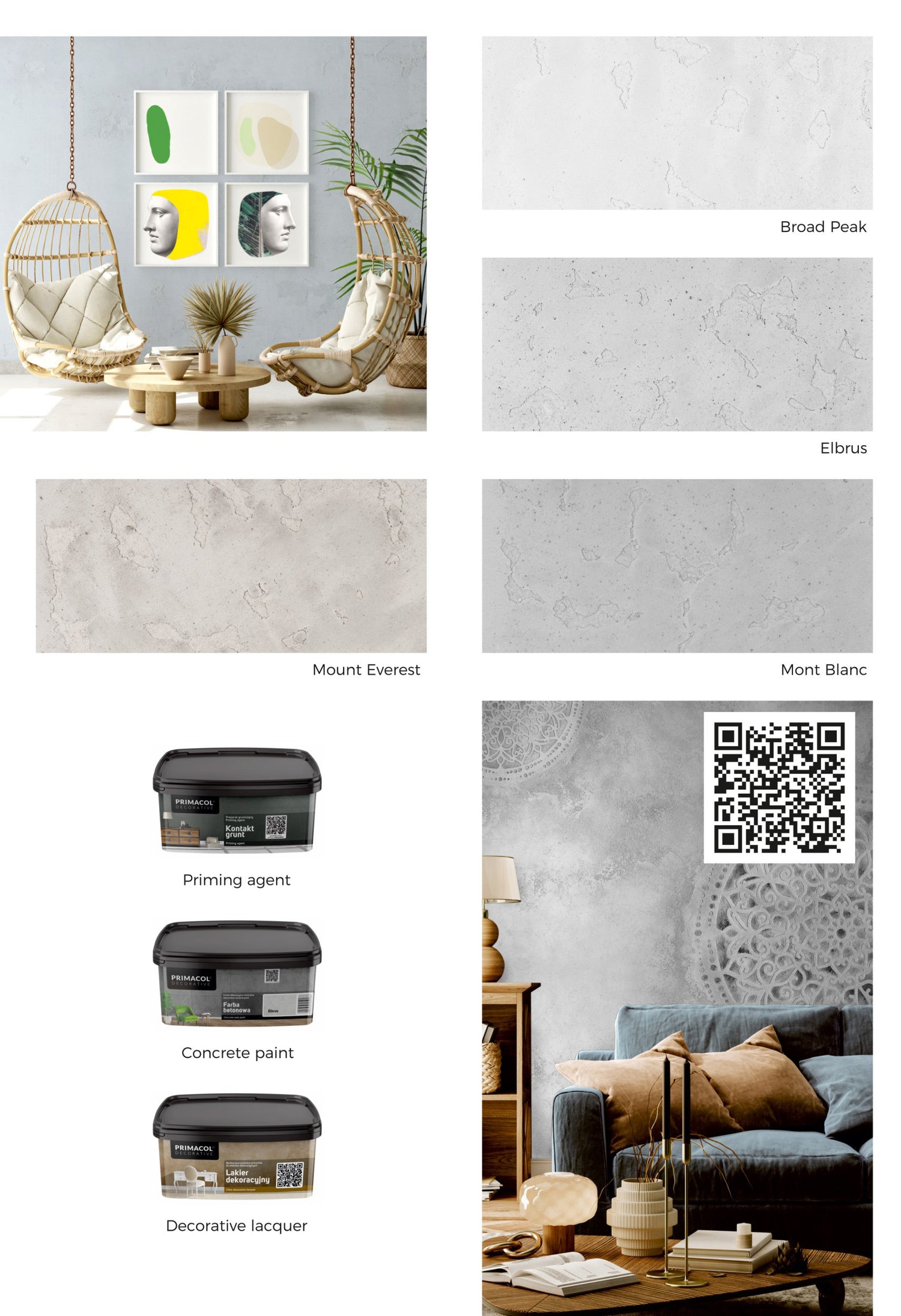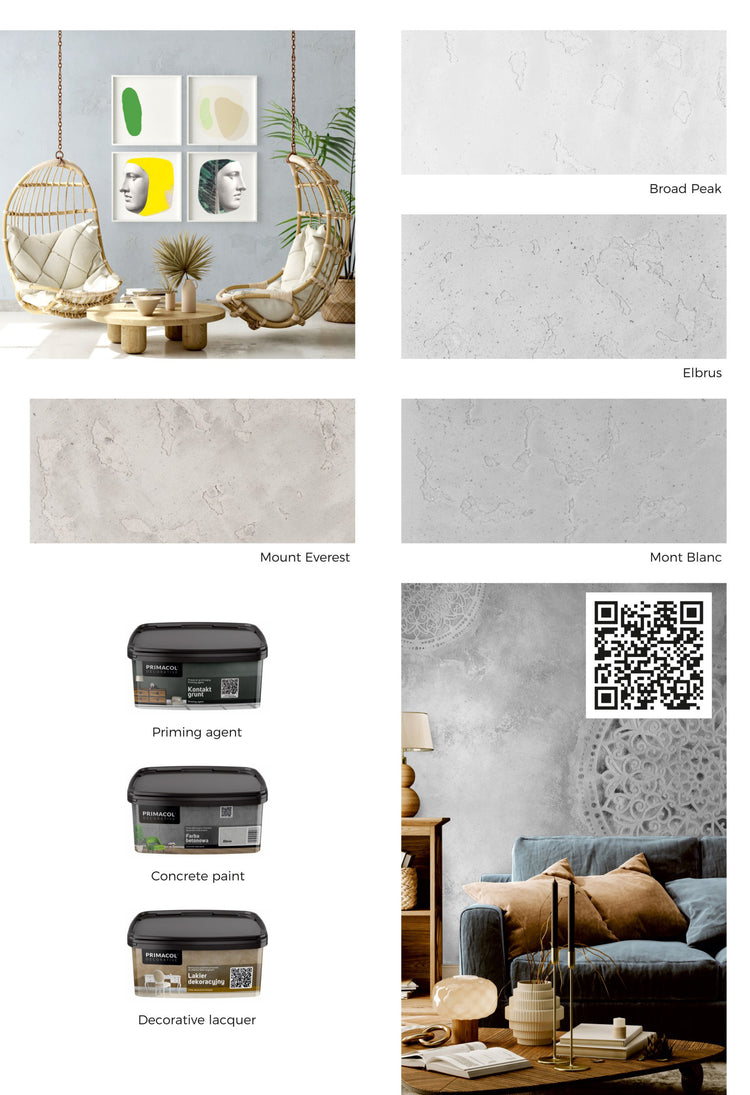 Concrete Effect Paint pattern book
Regular price

Sale price

€2,43